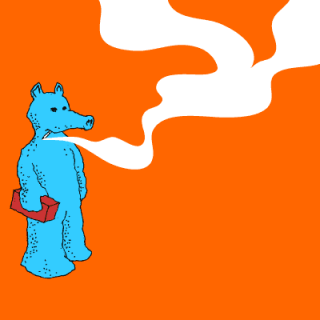 Pic: Lord Quas
Unfortunately,
Zomby
didn't make it to his Athens gig last night, which was no surprise since the guy doesn't show up in most of his home gigs - i wouldn't expect him to fly overseas and play. Maybe it's his elaborate scheme for making a name for himself: Zomby never shows up for his gigs, so when he finally does show up, it will be more of a rare, sought-out experience. But i don't want to think that way. I am just curious what his agency has to say about all these no-shows.
Anyway, his absence left the 2:00 slot open so we could catch Stones Throw crew Madlib, Egon and J Rocc play in another venue, not too far from there. When we came in, Egon was playing some old Greek psychedelic tunes, followed by some old psychedelic tunes from Cairo, followed by some old psychedelic tunes from fuck-knows-where. The music was deep, and it was a total mind-blower. J Rocc played a nice set of mostly straightforward hip-hop tunes along with some ill Dilla beats and the odd selection here and there, and then it was Madlib's turn.
Madlib got a lot of hate for under-performing, including some booing and some rather rude , moronic remarks such as
"get a life!"
or
"play the Madvillain tunes!"
. Possibly being smoked out, most of the time he was scratching meaninglessly for minutes before letting the tune play and then mumble some incomprehensible raps on top.
Now if anyone is interested in my own, strictly personal point of view, here it is: there are some artists that can do whatever the fuck they want. Actually, any artist is free to do what ever the fuck he wants, but some are more easily excused than others - in case one doesn't sympathise with their intentions. Having watched the Chrome Children DVD, i kind of expected more from him. But, again, that's his thing. That's what he did and that's who he is. A smoked out genius that can do whatever the fuck he feels like. I wouldn't expect anyone in the room to get it, including me, cause that stuff really made sense only if you were in the same mind state that he was in. Again, that was his thing and that's what he did. Athens has a long tradition of DJs playing shit and artists under-performing just because they don't give a fuck about a small country in the Balkans, but i don't think that was the case here.
Whatever the case was (and i really don't want to be misjudged as a fanboy here), some people just earn the right to do what they want, based on their creative output. The Aphex Twin is one of them, i feel. Madlib is another. I am just happy i saw him perform in flesh.